Good practices and tips
This is your Neokyo user's guide. Here, we provide you with the tricks, tips, and info to make your buying experience as enjoyable and trouble free as possible while using our service.
Understanding the service
We make it a point to share this reminder on many occasions in the help section because it's so important (and some people have a tendency to forget!) :
Neokyo is a service that helps you purchase from Japanese websites. We are not a shop or a selling platform.. We do not own the items you see on our website.
Accordingly, the use of our service requires a full understanding of the principles described in below :
Secure my purchases
In case you run into issues with a purchase or a shipment, we'll act as mediator to intervene on your behalf to protect you from any shop or carrier that does'nt honor their part of the contract.
However, we cannot and will not be held responsible for a problem that is beyond our control, nor can we make any guarantees as to the outcome of such a situation. You can find all the details of our mediation policy via the following link.
Most items can be shipped via the main post office, Japan Post. Even so, Japan Post has some restrictions that we must adhere to. Certain items will incur extra costs due to their type, weight, and/or size, while other items are absolutely prohibited. For your convenience, we've put together a partial 'Forbidden Items' list, which can be found below.

Although Japanese sellers and shops are respectful of their customers and adequately meet their needs 95 % of the time, the world of Japanese imports sometimes has its pitfalls and we will do what we can to help you avoid them. Naturally, we can't protect you from everything, so we require a certain vigilance on your part.
Please keep in mind the following 3 main ideas :
---
Our dedicated customer service team is at your service, free of charge - we're happy to help you on your quest to find amazing deals in Japan!
We may be able to help you if a question about an item arises. Here is a partial list of the kinds of questions we can ask/respond to :
Is this item brand new ?
How much will it cost to ship this item to your warehouse ?
Can I order this item?
Shops won't answer questions about the item authenticity and they will not respond to attempts at price negotiation (bartering).
Unfortunately, we will not be able to assist you with technical questions or for which answers cannot be found on the item page.
How to optimize my costs
and save
Here are some helpful tips for saving on costs while using our service.
Purchase in bulk rather than in small quantities to lower the price of service fees.
If possible, buy from the same seller. This will make it possible for us to request those items to be grouped together (while being shipped to our storage facility), thus saving you money on intra-Japan shipping costs. Keep in mind, however, that not all sellers will accomodate this request as they are not required to do so.


Buy from vendors near our location (Fukuoka Prefecture). You'll save on intra-Japan shipping costs if you buy from a nearby prefecture and avoid items from distant places like Hokkaido or Okinawa.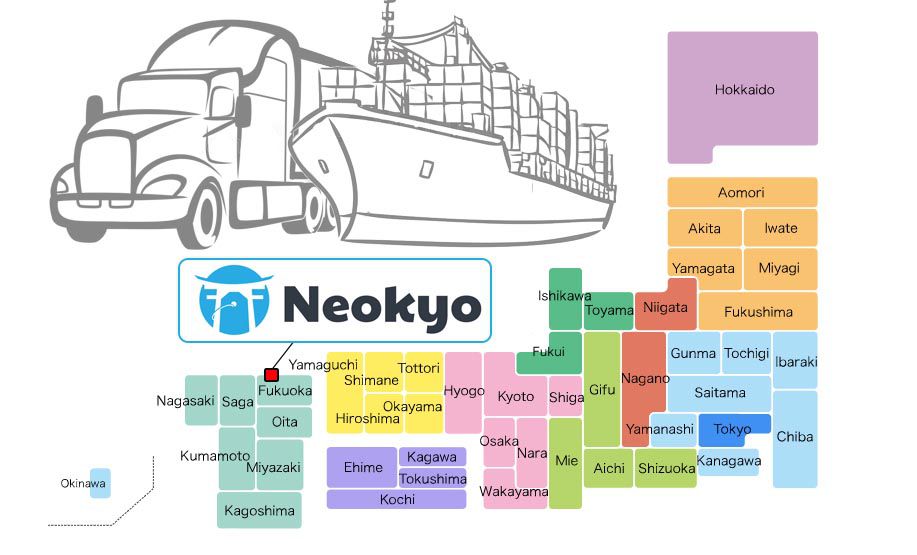 Map from the Japan Post website
Other tips and tricks
We recommend some sales sites over others in order to avoid some of the common hurdles (the item never arrived, came with a defect..) :
| Shops | Dispute policy |
| --- | --- |
| Amazon, Rakuten or any other professional retailer | Disputes have a better chance of success. Hosting marketplace or retailer can intervene if an issue occurs. It should be however be reported ASAP to be eligible to the marketplace dispute policy. |
| Yahoo Auctions, Yahoo Shopping, Mercari, Rakuma (Fril) and other individual-focused marketplaces | If the seller does not take responsibility in case of a dispute, we will not be able to obtain any form of compensation! |
Here are a few important pieces of advice :
Take advantage of your 45-day storage period. By combining your items in one package, you'll reduce your international shipping costs (it could put you in a lower price-per-kilo bracket)
Beyond a value of 200,000 yen, any item(s) are subject to a special declaration procedure with the authorities. Such an approach cost up to 2800 yen.
We would recommend paying your orders done at the same shop within the same day in order to benefit from better shipping cost to our warehouse. If you choose to proceed your payments on different days, we might not be able to benefit from the original shipping cost that were invoiced.