Create a Buy request
We make it extremely easy to order from Japanese sites.
If you know the link (URL) to the product to be purchased by Neokyo, this tutorial will teach you how to fill out our order form in just a few minutes.
Access the purchase request form
The purchase form can be accessed from any Neokyo page :
First, you need to be logged in in order to be able to access the order form.
Once you're logged in, click on the "+Add a Buy Request" button found in the upper right corner of every page.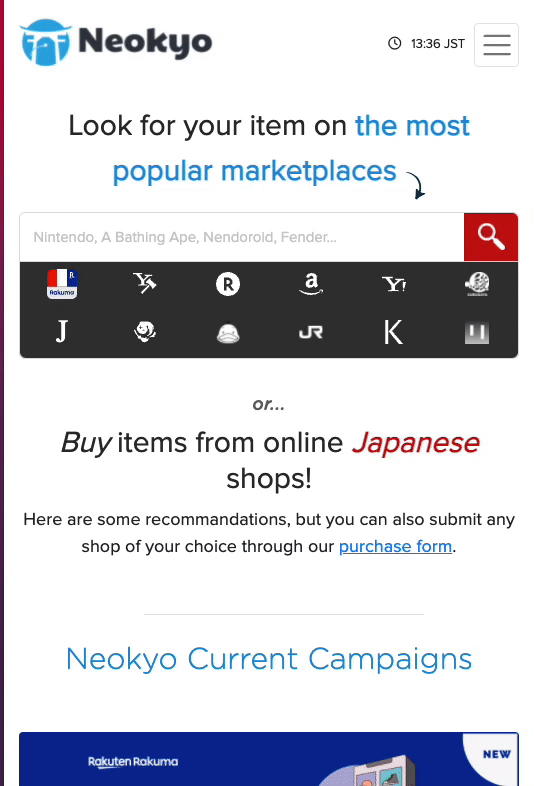 How to fill the purchase form
Simply fill out the Link (URL) field with a valid link to the item to be purchased.
Click the "Send my Request" button to submit the first step.

Depending on the shop you selected, Neokyo will redirect you to a dedicated purchase page or ask you for additional information.
Case 1
: the marketplace is embed on Neokyo

If the link is a product page bound to the following marketplaces, the system recognizes it and will automatically redirect you to a dedicated Neokyo purchase page.
In such case, simply follow those steps to complete the purchase request on the new product page :
Case 2
: Neokyo does not automatically recognize the shop
If Neokyo does not recognize the link, new fields will appear within the purchase form.
Simply fill them out as follow :
-Order Label* : Write the name of your order here. This will help you identify the purchase on your interface.
-Quantity * : Tell us your desired quantity. We will contact you if it's not possible to purchase the quantity you requested.
-Price in yen* : Input the product price (tax-included if possible). Do not worry, if you get it wrong, our team will fix it for you upon reviewing your request.
*Filling those fields is mandatory.
-Item Option : This is where you provide any additional mandatory information which may be requested by the shop (size, color...).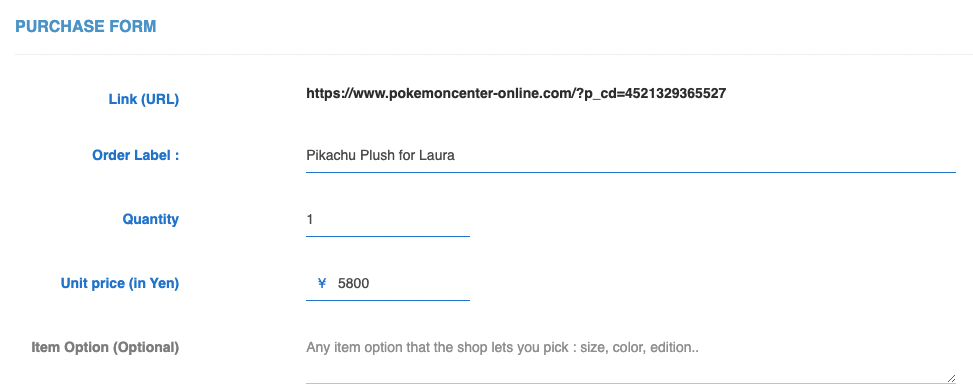 Simply hit the "Send my Request" button to complete the purchase request. Congratulations, you successfully sent your first purchase request!
A Neokyo operator will then review your request and a notification will be sent once your order invoice is ready. From your Dashboard, you can select the "Buy Request" section to check your ongoing request(s) status.