Shipping process
Neokyo offers you 6 different shipment methods. With so many options to choose from, we're confident that you will find a shipping arrangement that suits your needs.
Summary of shipping methods
| Parcel Type | Cost | Capacity | Shipping Delays | Safety |
| --- | --- | --- | --- | --- |
| E-Packet Light | | | 1 to 3 weeks | |
| SAL Small Package | | | 1 to 3 weeks | |
| E-Packet | | | Less than 10 days | |
| Airmail Small Package | | | Less than 10 days | |
| Surface | | | A few months | |
| SAL | | | 1 to 3 weeks | |
| Airmail | | | Less than 10 days | |
| EMS | | | Less than a week | |
| FEDEX | | | Less than a week | |
| DHL | | | Less than a week | |
Note: Some shipping methods are not available in all countries. For more information, the Japan Post provides a useful tool for simulating shipments, available here. (Select "Parcel (Package)" for step 1 , "Fukuoka" for step 3, and your country for step 4.)
Weight, size and item restrictions
International carriers set the following restrictions :
Item maximal weight and dimensions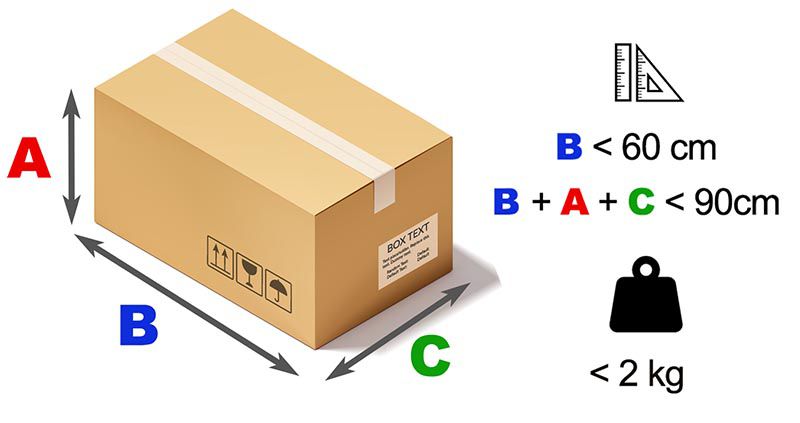 Small Package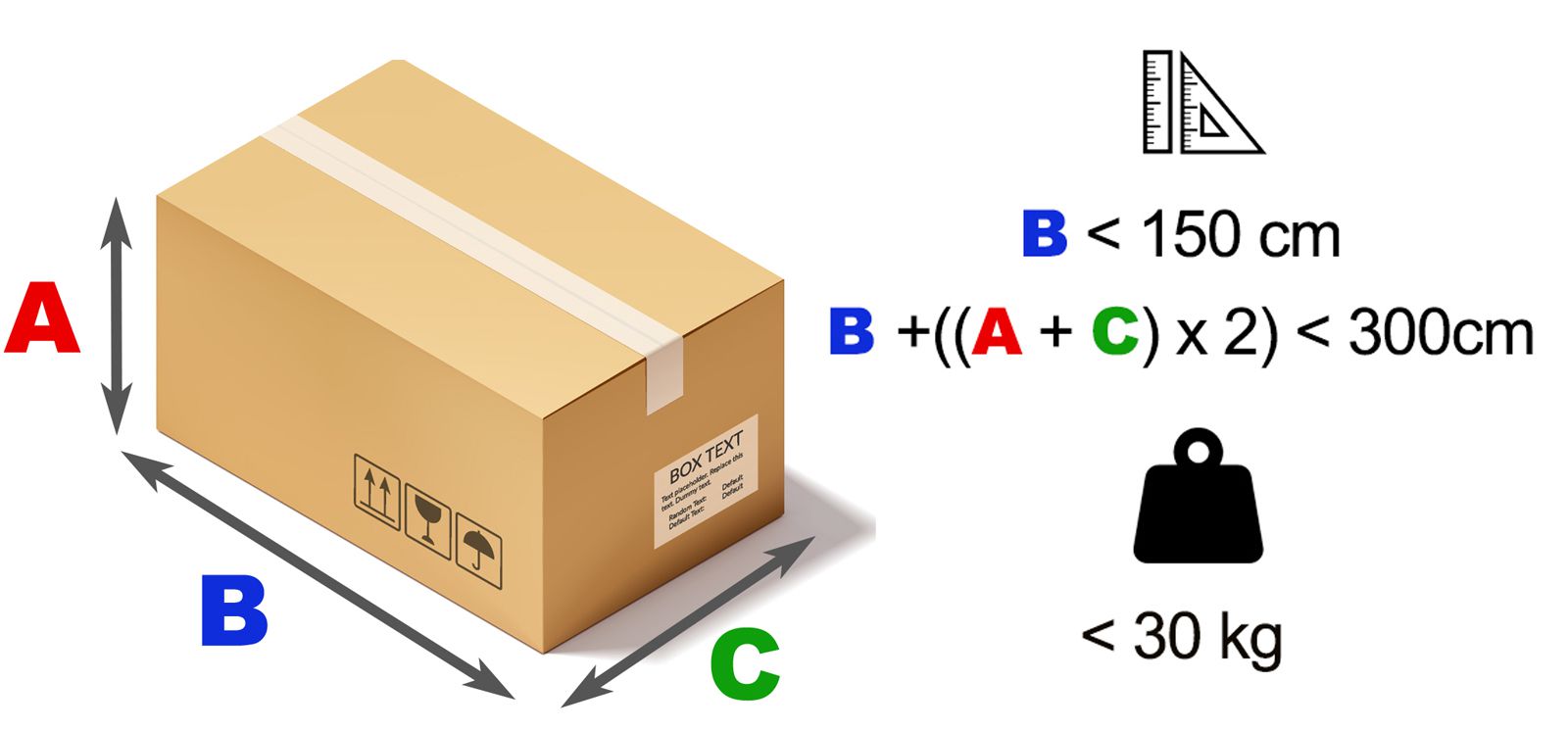 Standard Package
"Small Package" are eligible to the most affordable shipping methods.
Beware :
Maximal size and weights for package bound for the USA, Mexico, Spain, Brazil and South Korea are 105cm/200cm/20kg. A list of temporary suspension of mail service and shipping method per country can be found on the Japan Post website.
Restriction per item nature
Here is a short list of the types of commonly requested items that are unfortunately restricted or forbidden :
Knives and blades
Products containing a lithium battery
Tires, gas cartridges
Magnetized materials (such as amplifiers)
Motors
The complete list of forbidden items is available here :
Know before you buy! We cannot stress how important it is to be aware of what Japan Post and other carriers consider 'forbidden items'. If you purchase a forbidden item, the company may refuse to deliver it. This is especially important since purchase cancellation is forbidden in many cases.
We invite you to get in touch with us beforehand if you're interested in bidding on or buying a restricted item : click here to contact us.
Estimate your shipping costs
Remember that Neokyo allows you to store and group your purchases in Japan, so it's quite possible to ship multiple items from different sellers all in one package! In order to help you estimate your shipping costs, here is a weight reference table.
| Average weight | Item example |
| --- | --- |
| 2 grams | Trading cards (Pokemon, Dragon Ball) |
| 10 grams | Calling cards, postal envelopes |
| 50 grams | Gashapon, phone cases, Posters, bubble mailing envelopes |
| 100 grams | Watches, small stuffed animals, CDs, DVDs |
| 200 grams | Manga, smartphone |
| 300 grams | T-Shirts, books, small package boxes |
| 500 grams | 20 cm PVC figurines |
| 1000 grams | Wax dolls, pants, shoes, boxes for standard packages |
Shipping method security (Insurance and delivery method)
| Shipping method | Parcel tracking | Maximum insurance amount |
| --- | --- | --- |
| E-Packet, Small Package : SAL & Airmail | | 6000 yen |
| EMS, Surface, SAL & Airmail | | Content value |
| FEDEX | | Content value* |
| DHL | | No insurance |
The insurance cost is included in the shipping price.
EMS : free while insured content does not reach 20000 yen, then 50 yen per 20000 yen worth of content.You can find more details through the Japan Post portal.
Surface : free while insured content does not reach 6000 yen, then 400 (base price) + 50 yen per 20000 yen worth of content.
The Japan Post insurance covers the following cases : damage which occurred during the parcel transport (obvious damage to the contents AND the package itself), package loss, any return due to a carrier mistake. Delays do not result in any kind of refund.
FEDEX maximum insured value may vary depending on the content nature. Please see the "Declared Value Charge for Carriage" section in this page.
Important points to consider before request a parcel or package
We unfortunately do not offer shipping to an address within Japan.
It is not possible to ship to a PO through FedEx and DHL. Only Japan Post methods allows this feature.
All packages may be the subject of an investigation in case of loss / damage / delay during transport. To open an investigation, send us a request at [email protected], including your username and all necessary details about the package in question.
Shipping by japan Post Surface is not recommended for fragile products, even if we have used double packaging or other extra protection to safeguard the item.
We cannot be held responsible if your package gets stuck in customs for most reasons. It is your duty to deal with the country of destination office of custom.
We're at your service for any delivery import faults : delay, loss, damage, theft, etc. Please note that we are not responsible for what happens to your package when it is in customs. Any PayPal dispute initiated against us due to customs blocking or delaying your package, without having sought our help beforehand, will result in a suspension of immediate service and your items in stock will be considered abandoned.
Neokyo is not part of the contract of carriage with the carrier that delivers your package(s), and our company assumes no responsibility for losses incurred (such as non-deliveries, delays, damages, etc.) during transport.
If you wish to modify a package content (and the package has been already prepared), packing fee shall be applied again in the form of a new invoice.
All packed parcels that contain more than 200,000 yens worth of orders must obtain a special export authorization according to Japanese regulations. Japan Post invoices 2,800 yens of processing fees, which are taken into account in our packaging fees on Neokyo.

If you have to ship more than 200,000 yens worth of items,we recommend you divide your orders into several parcels. If you place an order for more than 200,000 yens, it won't be possible to divide the item in several parcels, even if it is physically possible.