How to track your package
All packages on Neokyo are sent with a tracking number making it easy to track your package on a tracking site, such as 17track.
The format of a tracking number
Your tracking number will be automatically sent by e-mail when your package is dispatched. It will consist of 14 numbers and letters.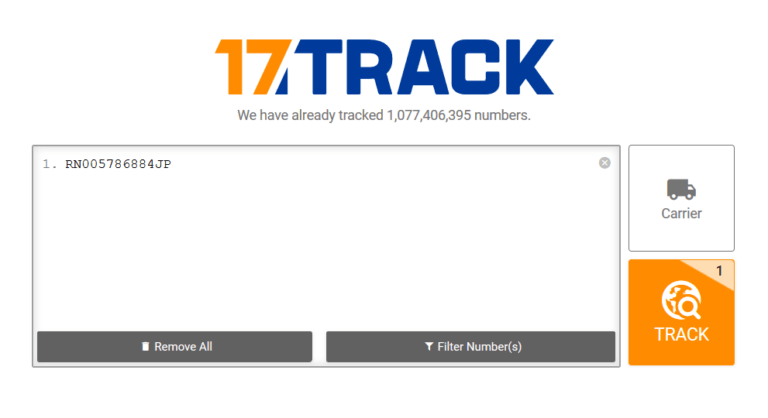 Where can I track my package?
You can use the tracking site of your choice. However, we advise you to use 17track because it offers an interface in English, and it will provide you with information from both Japan Post (in English) and your local carrier
Understand the steps involved in tracking a package
Tracking will be activated as soon as the package is collected by the postal services but may only be active within 48 hours of receipt of your shipping confirmation.
When shipping by boat, the package is sent from the port of Kanagawa. For other shipments, the package is sent from Osaka Airport.
If you can read "Dispatch from outward office of exchange" it indicates that your package has left Japan and is on its way. Tracking will only change once your package is picked up by your country's postal or customs services.
For a shipment by boat, the tracking information does not change until it arrives at the first port of the receiving country (the rest of the delivery is made by land).

Frequently Asked Questions:
My tracking number is invalid.
There may be a delay in getting your package to the Japanese postal service. If your tracking number is still not valid after 24 or 48 hours, please contact our team.

Where will I receive my package?
Your package will be delivered to your home. If you are not home, the carrier is required to leave you a delivery notice and/or make a new delivery attempt.

If you have received a delivery note, you will be able to read the address of the post office in charge of storing your parcel. You will have to ask for a new delivery or go to the post office to collect it.

If the package is marked as "attempted delivery" and you have not received an attempted delivery slip with instructions on how to receive your package, please contact the carrier.
I have not received a delivery notice. How do I know where to collect my package?
If the words "pick up" or "retention" are mentioned in your tracking, this indicates that your package is waiting to be collected at your post office.

The post office in charge of storing your parcel is, most often, the post office in your neighborhood (geographically the closest). Do not hesitate to go there to ask them for more information. You can also contact the postal services by telephone.
The tracking status has not changed for several days.
In the majority of cases, these are postal or customs delays. If the delay persists, do not hesitate to contact our services.
In the case of a shipment by boat, the tracking status will not change for at least three months.

The tracking number has expired.
If the tracking number exceeds six months, the tracking number expires and you will no longer be able to access it. In the case of postal delays, please contact us before the end of the six-month period so that we can launch a postal investigation.
My package has been returned to you.

In the case of returned parcels, our team will contact you as soon as the parcel is received. You will then be able to ask for a return of the parcel.
What do I do if my package arrives damaged?
Check out our post : Steps to take if your package has been damaged