Buying Anime Figures With Neokyo.com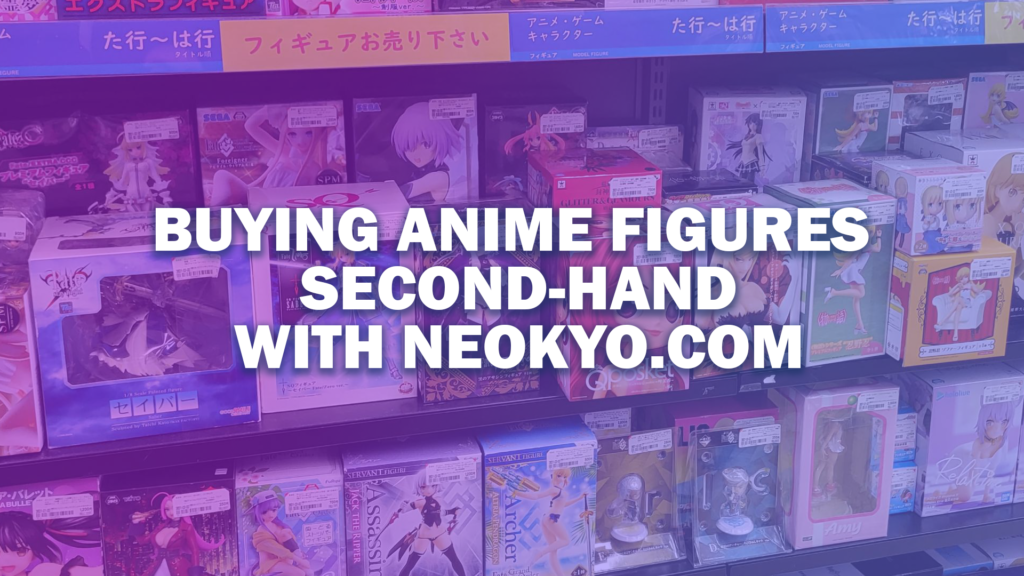 A couple of weeks ago on the Neokyo blog, we told you all about how to find figures from your favourite Tokusatsu series, using Neokyo.com to buy from real Japanese marketplaces at great prices. Tokusatsu is pretty niche, so we thought maybe you anime fans who use our service felt left out. Don't worry – for all of those new to the anime figure collecting world, we've got some useful information to share.
Buying anime figures from Japanese retailers is a lot easier than you might think. With Neokyo.com, you can access deals from sites like Amazon.co.jp, Surugaya, Rakuten, and plenty of other places to find new and used merchandise that
But where do you start? If you've never purchased an anime figure before, here's a complete guide, including the best types of figures to look out for, how to buy them and where to find the best deals!
What type of anime figures should you collect?
If you're absolutely obsessed with certain popular franchises, then there's a high chance you could be spoiled for choice in terms of the type of figure available. With everything from 1 / 8 scale masterpiece sculpts to cheaper 'super-deformed' chibi figures, it can be difficult to know what should form the cornerstone of your collection.
With a huge range of styles and prices, it can help to know some things about the various types of figures that you're mostly likely to encounter, and use that information to make an informed decision.
Gacha Figures & Candy Toys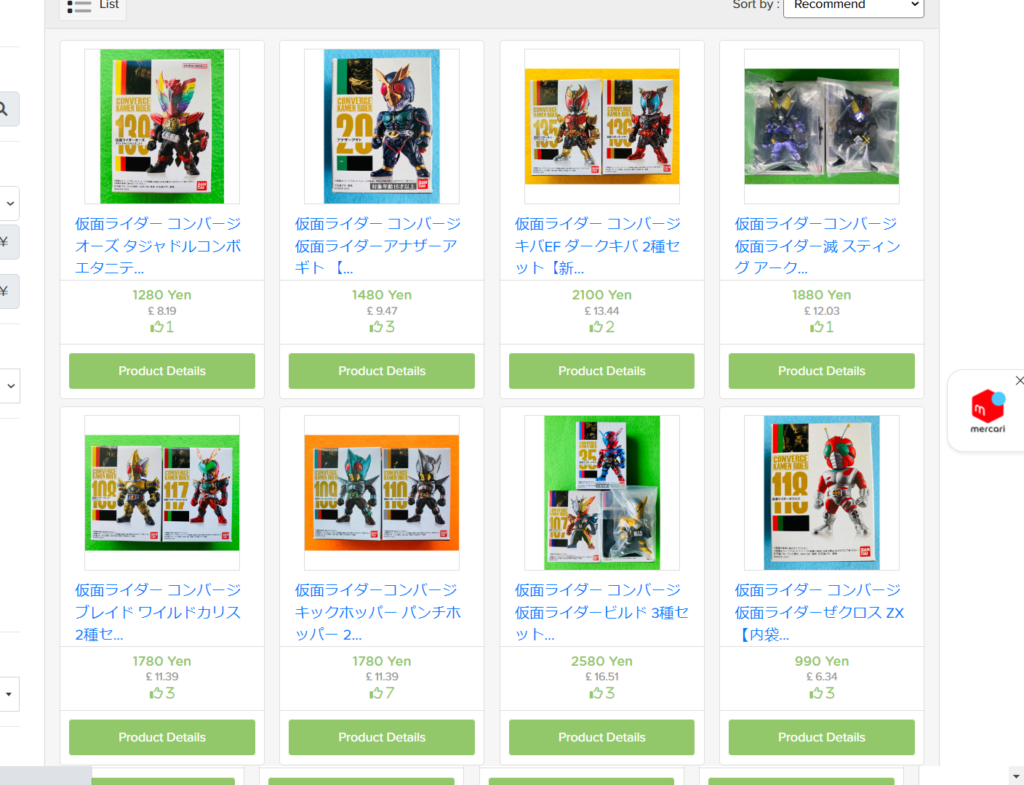 As with Tokusatsu toys, there are plenty of affordable ways to start a small collection of anime figures from gacha figures and small 'candy toy' figures that can be found with ease at Japanese shops. 
For example, if you're a One Piece fan (and who isn't?), the 'One Piece No Mi' series of gacha mini figures is well worth investigating. These tiny figures cost around 300 yen, and the series has included lots of characters from the massive pirate ensemble you know and love. These are pretty easy to find on any Japanese marketplace that sells used items.
Another great example is the Gundam Converge series – if you read our post on Tokusatsu toys, you might already know that the Converge Kamen Rider series is excellent, but did you know that Converge Gundam is also a thing? If you don't want to build your gundams, this might be a great way to have your own miniature collection of giant robots.
There are plenty more examples of excellent gacha and candy toy anime figures. When searching your favourite series, you're bound to find plenty of these on the various marketplaces available via Neokyo.com.
Prize Figures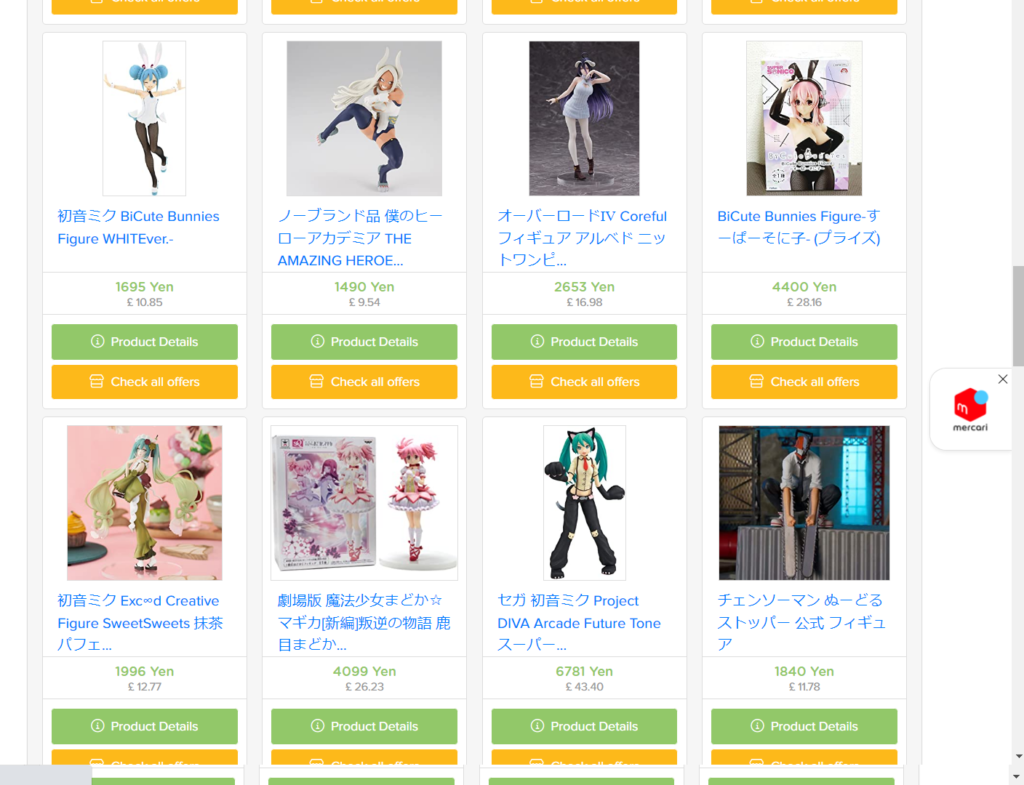 The step up from small collectables like gacha toys is Prize Figures, meaning figures that typically be won in Japanese arcades and via lotteries. In the prize figure space, it's easy to find figures that are much bigger in scale but a lot lower in price. Because they're intended to be won rather than purchased, you're more likely to find these items used.
Prize figures come in a range of different styles and scales. Common amongst them are figures designed to sit on ledges, also known as 'noodle stopper' figures (because you can use them to keep the steam trapped in your cup noodles) as well as large and small scale vinyl figures. Prize figures are normally relatively static statues with no articulation and simple detailing, but they can be a cheap and aesthetically pleasing way of building your figure collection.
You'll find a variety of prize figures of characters from different series. As these figures release regularly to coincide with certain anime and game releases, what you're able to find may depend on what is popular to the current moment.
There are also plenty of long-running series of prize figures available for specific franchises in addition to series that feature characters from a number of different franchises. For example, the Aqua Float Girls series features female characters from a wide array of different anime and game series in summer swimwear. The Bi-cute Bunnies series similarly features a range of popular female characters in bunny outfits, from Rem from Re:Zero to the iconic 'vocaloid' idol Hatsune Miku.
As another example, you can find nearly every One Piece character in the same scale in the ongoing Grandline Men/Grandline Ladies series. These are frequent releases for amusement arcades, so they've already released lots of figures of fan favourite One Piece characters.
As another example, the anime Chainsaw Man has been mighty popular recently, and it's just started to get some prize figure releases following the end of the anime's broadcast. Characters like Makima and Power both have scale prize figures available at the moment – and you can use our search bar to find them used across a number of Japanese marketplaces!
Recently, the Pop-up Parade figure series by the Good Smile Company has also entered into this market as direct-to-retail static statues similar in pricing and style to prize figures. As an emerging series, new Pop-up Parade figures are being announced and released all the time, so check it out!
Nendoroids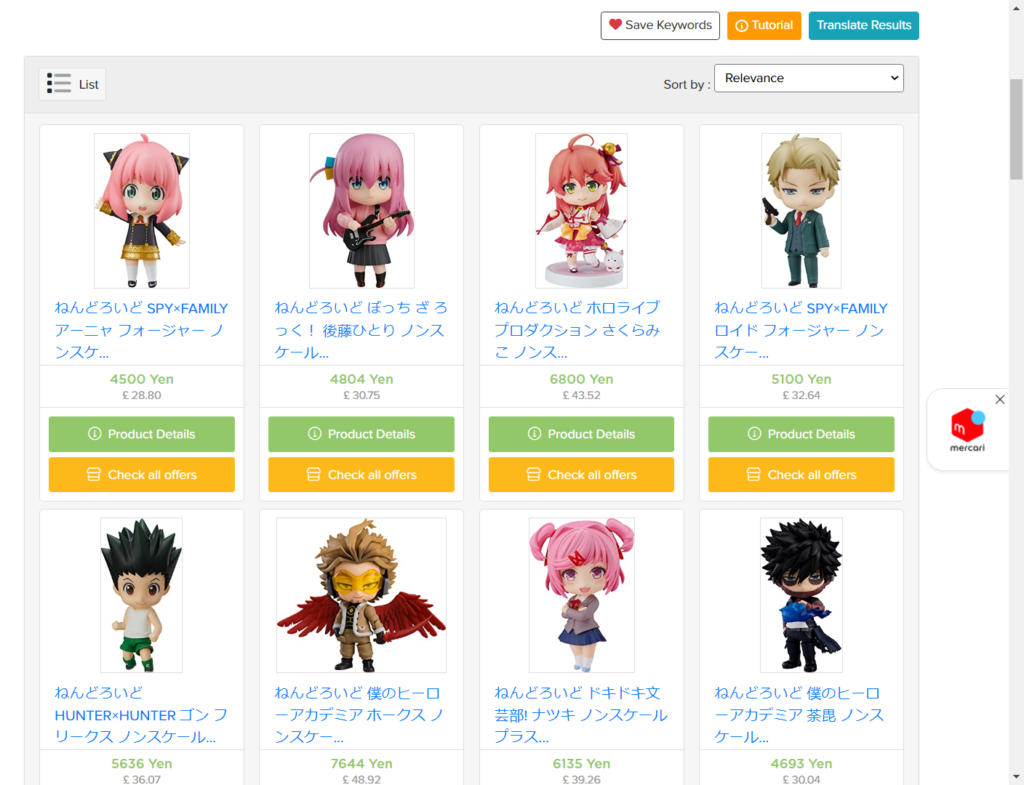 If you're looking for a collection with a bit more consistency that's also 'cute', you could consider collecting the Nendoroid series. These chibi-like character figures from the ever-reliable Good Smile Company offer highly-stylized versions of your favourite characters from literally everything – anime, manga, games, movies, popular culture and more. Although they tend towards characters from eastern media, they also offer a fair share of characters from western media, too.
Nendoroids are all in the same scale, release at similar price points and are highly customizable. Face parts from any Nendoroid figure can be swapped with basically any other, and they come with plenty of unique accessories. Good Smile also produces generic face and accessory sets so that you can create your own 'custom' nendoroids.
The Nendoroid series' consistent scale combined with such customization allows you to create some truly special displays.
Figma & S.H. Figuarts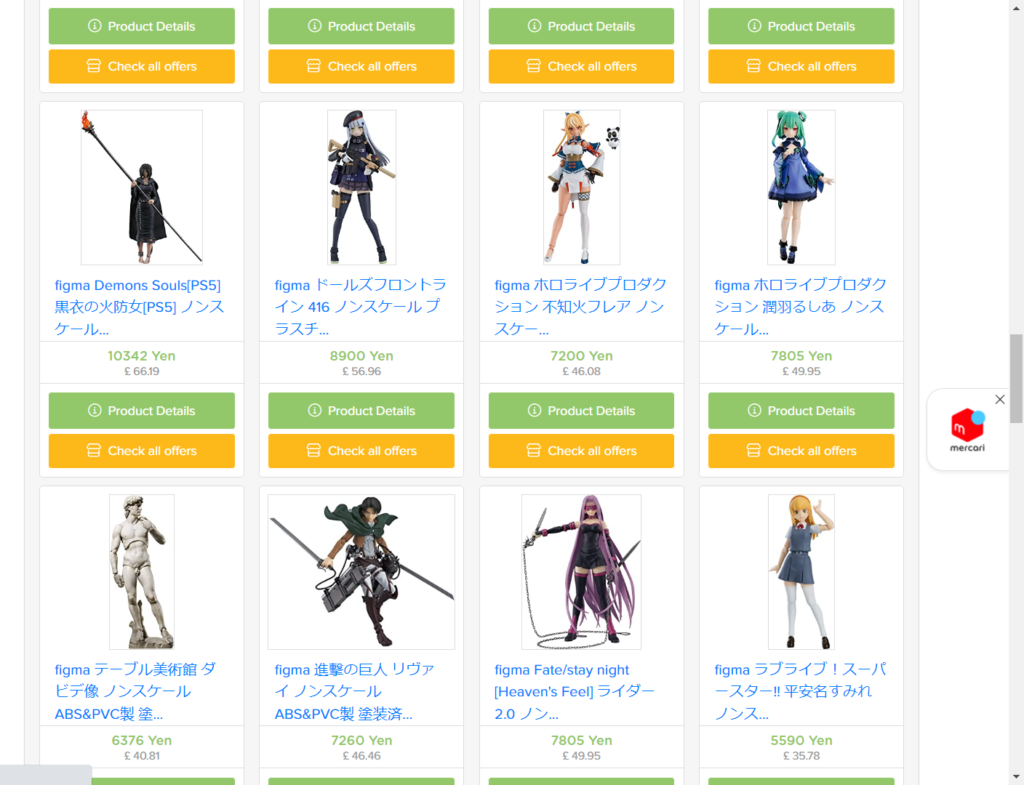 If you're looking for something that resembles a more traditional 'action' figure, you're going to want to look towards a few particular brands: Figma and S.H. Figuarts are a great place to start. These brands are the ones that offer figures with a high level of articulation, usually in a 6-inch scale.
Much like Nendoroids, Figma (also created by the Good Smile Company) is renowned for including a broad variety of characters across popular and even not-so-popular culture. Beloved Japanese characters such as Ace Attorney's Phoenix Wright or Fate's Saber are available in the Figma series, but you can also find oddities such as ____'s 'The Thinker' statue represented in figure form. 
The Figma series offers excellent sculpt and paint quality. Whilst chibi figures like Nendoroids homogenise characters into one consistent style, Figma allows characters to retain their individuality to some extent. Certain characters in the Figma line will have art style uniquenesses to represent the specific title that they come from, and every Figma comes with a range of unique accessories that will usually be compatible with other Figmas.
The S.H. Figuarts series is also another well-known quality figure brand. Much like Figma, S.H. Figuarts also releases many different types of characters in medium-scale, high articulation figures. If a character doesn't have a prize figure or a Figma release, then there's always a chance it might have an S.H Figuarts release. As mentioned in our guide to buying Tokusatsu figures. his brand is particularly well known for its tokusatsu characters, such as the 'Ultra Arts' series for the Ultraman series. and the range of Kamen Rider characters available.
Where To Buy From
If you don't live in Japan, don't worry – there are still plenty of places you can buy your anime figures. You've come to the right place!
Using Neokyo.com, you can access popular Japanese marketplaces such as Amazon.co.jp, Rakuten, Surugaya and now Mercari. Just search up what you're looking for with our search bar, then switch between all of our available marketplaces.  
When you've found your figure, you can really easily make a purchase request on our website. From there, we can handle the rest!