Is Mercari Safe? How To Shop Safely with Mercari Using Neokyo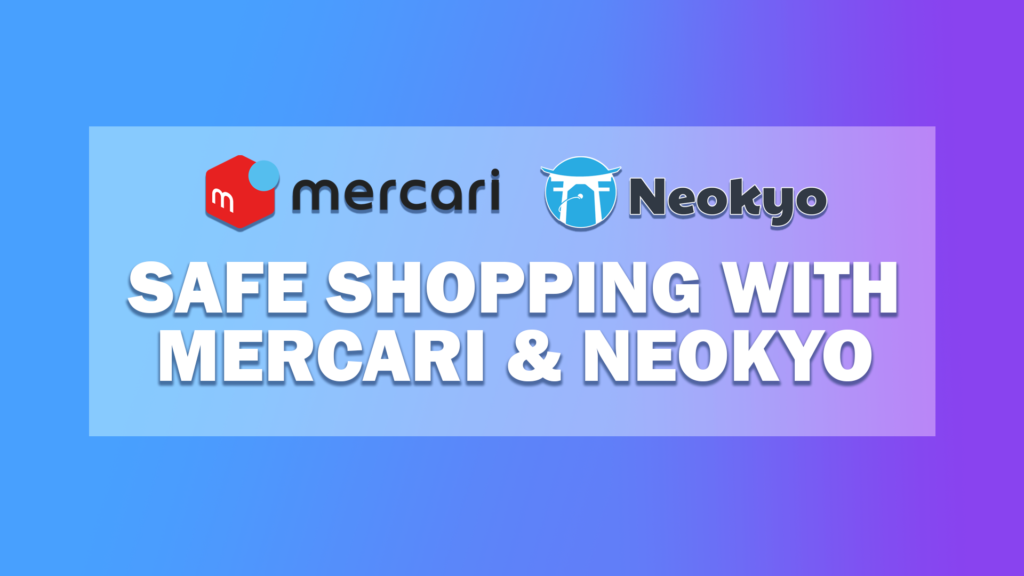 Here at Neokyo, we're excited about our recently announced partnership with Mercari, one of Japan's biggest flea markets. Although lots of you have enjoyed using Neokyo to purchase on Mercari already, we can understand that some of you, especially customers new to buying from Japan by using proxy services – might be hesitant to get started.
Rest assured, both Mercari and Neokyo are totally safe! But even on respected flea markets like Mercari, there are many problems you can run into and sellers who are willing to take advantage of unsuspecting buyers. Here we've given you some advice on how to purchase from Mercari safely and things to look out for so that you don't end up disappointed.
Always read the listing description
Rule number one is simple: always read the listing description! Because of the competitive nature of platforms like Mercari, sellers will use a variety of techniques in product photos and names to get you to click and even purchase their items. One such technique is hiding pivotal information about the product within the description, counting on consumers not paying attention to the finer details.
Occasionally, the description will indicate a disparity between the product photo and the product itself that you'll only learn from reading the description, so it's important to read it thoroughly!
Look at Seller Information
To make the marketplace safer for everyone, Mercari has a system of seller verification. If you want to ensure that your purchases are always safeguarded, checking for this verification is essential. Mercari sellers will have a green shield symbol after their name, as well as the japanese phrase '本人確認済'.
But verification isn't the only piece of information that you can look for on a seller's profile. The amount of sales that have been made for each seller can also be a good indicator. A seller with at least 50 sales is a lot less likely to be attempting scams than a seller with very few sales, after all, scammers are less likely to keep their profiles for long.
The review system is also important for determining trusted sellers. Sellers can receive both positive and negative reviews from previous customers, meaning you can set your own threshold for what justifies as a reliable seller. Something may be off if the seller only receives feedback from proxy services or other sellers with little information. Good sellers will have a history of feedback from Japanese buyers.
It's also a good idea to check the seller's other listings and past sales. If the picture background or quality often changes, this may indicate that the seller is using someone else pictures.
Counterfeit Items
When it comes to collectables, it's easier than you might think to encounter counterfeit items. Everything from anime figures to trading cards can be elaborate duplicates. Even items that you might believe to be difficult to counterfeit can fall into this category, such as signed goods or limited edition items.
To reiterate our first suggestion, the first indicator of a counterfit item may lie in the description. For particularly limited items, it's common for legitimate sellers to explain where they obtained the item, as well as giving some detail on its condition. If you're looking directly on the Mercari site, most descriptions will be written in Japanese, so make sure to use a machine translator like Google translate or DeepL if you're not familiar with the language.
When looking for authentic merchandise, it's wise to avoid descriptions that are intentionally vague. If there's no source for the product in the description and no photo of the product in its present condition, there's a high chance it's a counterfeit item. Similarly, you should know exaclty where the product is shipped from – if a vague descriptor like 'overseas' is utilised, you should exercise caution.
However, a good sign that the seller is selling authentic goods would be a history of selling similar goods in the past. Although it's not necessarily uncommon to suddenly start selling rare items on Mercari, a history of sales of similar items may indicate that the seller is dealing in genuine products, whilst an absence of a history may indicate the opposite.
Ask Other Collectors
The final piece of advice that we can give for shopping on Mercari is to seek the advice of other collectors. If you don't know any, you can certainly ask for feedback in various places around our Neokyo official Discord server, where hundreds of anime pop culture collectors and enthusiasts come together to talk. It'll be easy to find someone with experience in buying the kind of goods you're after.
Our Discord community will be more than happy to help, and will likely be able to ascertain if an item is counterfeit or otherwise duplicitious.
Be sure to check out our Mercari introduction and guide for more information.
Of course, if you have any other questions about safe buying on Mercari, the Neokyo team can also assist.