What's new for Neokyo in 2022 ?
Hello everyone!
On behalf of the whole Neokyo team, we wish our members a Happy New Year 2022!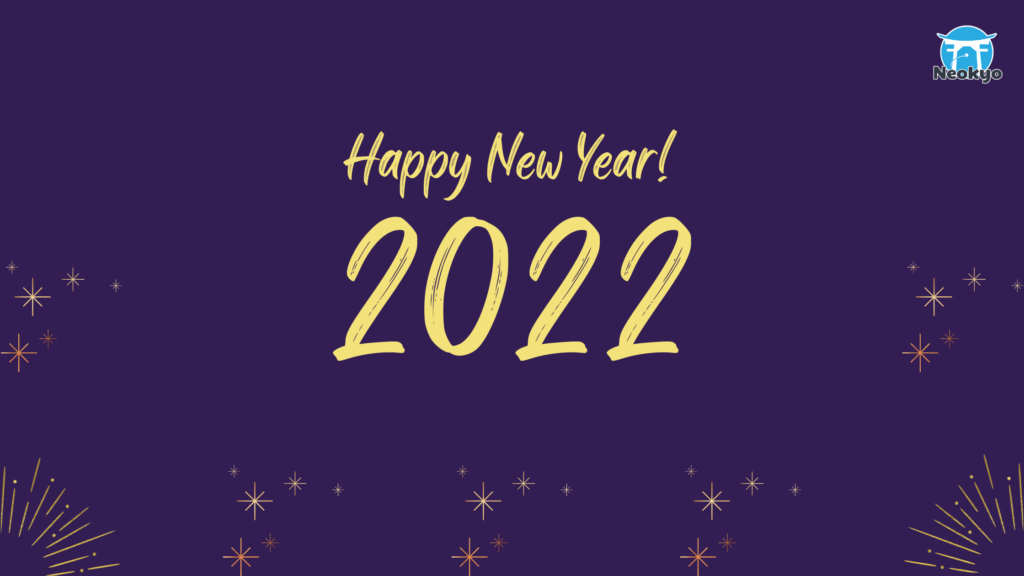 Looking back to 2021: quite a busy year!
We know it has been a rough time for some of you, and I hope we can bring at least some comfort through the hardship to our kind community.
Let's look at what unraveled over the year regarding the service.
In January, the packing team added several new parcels to our "cardboard roster". Our packers now choose among 27 available standards to consolidate your orders within a fit container and to make sure you save on shipping costs while keeping your purchases safe.
Dehlia started sending monthly themed newsletters this summer for those who have a hobby at heart. Anime, Kpop, Japanese fashion: you name it, we have it. Would you like to see new themes introduced in the future?
Another main focus in 2021 was expanding our partnerships with Japanese marketplaces. We had the honor to add Magi, JR Kyushu, KBooks, and Takayama to the Neokyo embed webshop roster. Second-hand goods are among the most contemplated kind of merch by the community. We commit our ongoing effort to satisfy this offer.
Speaking of partnerships, one of this year's highlights was Neokyo becoming the first and only officially sanctioned overseas sales partner of the Johnny's Agency. This privilege allowed us to welcome worldwide fans of SixTones, Arashi, King & Prince. As a result, they can finally access their band goods simultaneously as their Japanese resident counterparts. Cheers!
This fall, some lucky members could access our Fril.jp closed beta, which is currently still ongoing. More about this is down below!
Finally, we launched an Indonesian version of Neokyo. We are glad to see our community expanding in South Asia and warmly welcome our new members! Selamat Datang!
What to expect for Neokyo in 2022?
Our team slightly expanded over the year. We are glad to state we reached a decent level of resources we can now allocate to the service maintenance and evolution.
The first and primary focus will be on stabilizing the system in its current state. We know that service interruption recurring occurrences have recently been the main point of concern for the community. Unfortunately, parts of those incidents are due to critical third-party providers, and we can't really escape them. Nevertheless, we'll emphasize stabilizing our own backend to reduce the likeliness of incidents. But also transiting to a platform that will be easier to maintain and make future feature additions easier.
While this work will be in progress, we'll still be able to provide the service with amelioration. This year, we'll be overhauling the user dashboard to a more friendly-looking, less corporate theme while making a point of keeping all the current functionalities.
We'll also keep the momentum gained with new partnerships and languages added to the website. But, of course, this is only scratching the surface. We have many more surprises in our bag, including some long-awaited features.
Finally, some good news regarding the online flea markets!
First, we'll keep the ever-going effort to provide a satisfying service for Mercari purchase requests. Neokyo is aware of the ins and outs of the user experience with this marketplace. We are committed to pursuing our efforts in this department.
We are also planning to launch the support for Fril.jp (Rakuma) to our whole userbase later in 2022. We know it has been a very anticipated feature. Thus our techies have been hard at work to provide a pleasant and fit solution.
The Neokyo Discord

It would be an understatement to say that the community Discord has been bustling this year! The membership tripled in size, and we have a great core of active users.
We can't stress how thankful we are to those of you who took a bit (or more!) of their own time to help other members seeking guidance or reassurance. It is truly heart-warming to see the community grow as a united block.
Moreover, we also genuinely thank the mods and server boosters for their involvement in making the Discord server a safe, inclusive, and welcoming place for everyone. Cheers!
This year saw many events and the addition of new elements such as :
– the parcel tracking and notifying bot
– new vocal channels
– new hobby-centered channels
– the" shipment sample" ever-expanding channel list (a handy tool for whoever seeks to estimate their shipment cost before committing to a purchase)
– "thank you" giveaways for our kind support providers
– a flamboyant mascot : Neotori (by Toujou94 : https://www.deviantart.com/toujou94)
Joining the Discord will genuinely change your Neokyo experience, so if you haven't done it yet, now's the time! The Neokyo server: https://discord.gg/yTT8SDP
In Conclusion
Let's wrap up this end-of-the-year post.
We express our sincerest thanks to the whole community for their loyalty and commitment to Neokyo.
As a reminder, if you have any suggestions or ideas regarding how the service can be improved, we have an open #suggestions channel on Discord.
You can also leave your opinion regarding Neokyo on our Trustpilot profile, be it positive or more nuanced: https://www.trustpilot.com/review/neokyo.com

Wishing all the best to every single one of you.
Kindly,
The Neokyo Team