Cosplay in Japan: our shopping advices.
Cosplay has its origins in the United States of the 60s. Cosplay consists in interpreting a character from pop culture, animes, video games, movies… but also to imitate the character's personality.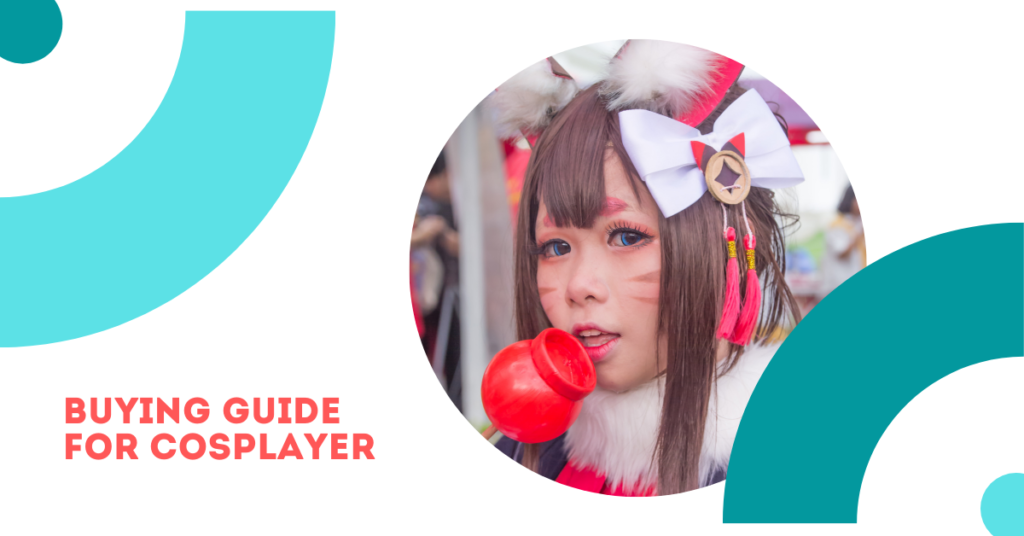 Cosplay in Japan: a world of enthusiasts.
Cosplay is imported and grows in Japan in the 80s. Cosplay that was until then synonymous with Western and especially American pop-culture, was extended to the Japanese Soft Power. The word "Cosplay" was actually invented by a Japanese journalist. It is a contraction of the English words "costume" and "playing". Now a worldwide phenomenon, cosplayers enjoy interpreting the hero of their choice.
Japanese people adopt and popularize cosplay in several forms ranging from "otaku" references in Japanese fashion to the professionalization of the discipline. Neighborhoods such as Akihabara, Ikebukuro, Nakano, Harajuku gradually become neighborhoods where the universe of Cosplay takes root and develops.
Cosplay is nowadays an integral part of Japanese pop-culture. Some are passionate about manual sewing or interpretation work, others are becoming professional in photography as cosplay models or photographers. Many cosplayers also choose the art of cosplay as a hobby to have a good time with friends.
Japanese cosplay stores.
In this country where it is possible to become a professional cosplayeur, or to run a cosplay store, there are of course hundreds of specialized stores. Choosing the store that suits us best can turn out to be complicated. To help you in your choice, we present you with a quick guide of specialized cosplay stores in Japan.
Acos: Generalist and accessible store.
ACOS is a popular store of cosplay, makeup and accessories. You can also find a selection of fashion items: clothing, jewelry, bags… Inspired by animes characters.
Among the many accessories, ACOS also has a very wide selection of wigs and colored contact lenses. Japanese lenses are usually of very good quality. They are also available with or without vision correction.
EXC1 : Promoting 2.5D through excellence.
EXC is an online store specialized in quality costumes, weapons and wigs. It is also possible to order custom-made cosplays from their "order made" category.
The name EXC1 comes from a desire to strive for the best costume through the excellence of their work. Therefore, the store is very appreciated by cosplayers looking for a costume, a customized weapon, shoes… But also by cosplay fans wishing to buy pictures of cosplayers or to have fun with a tailor-made costume.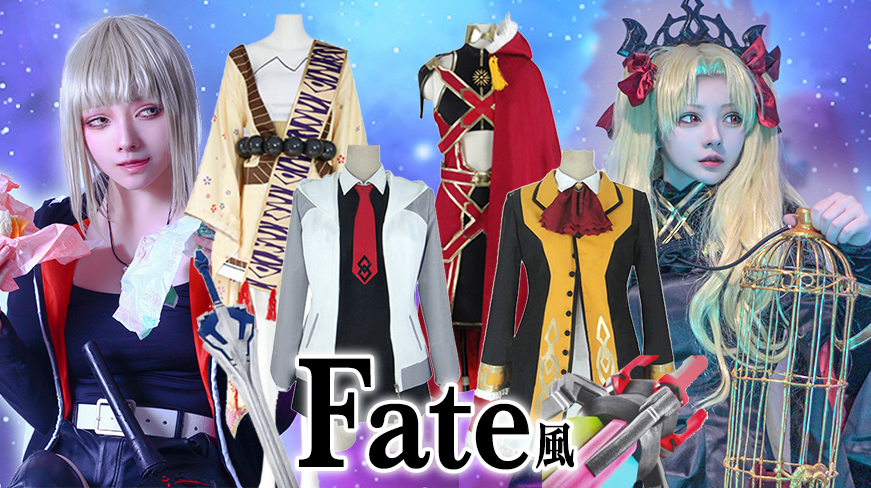 Cos-parfait :Quality cosplay for all budgets.
Cos-parfait is a popular store and online boutique. In addition to a complete offer, the strong point of Cos-parfait is that the store features an excellent selection of second-hand cosplay costumes and accessories (section 中古コスプレ衣装).
Cos-parfait offers a daily sale of new and used products.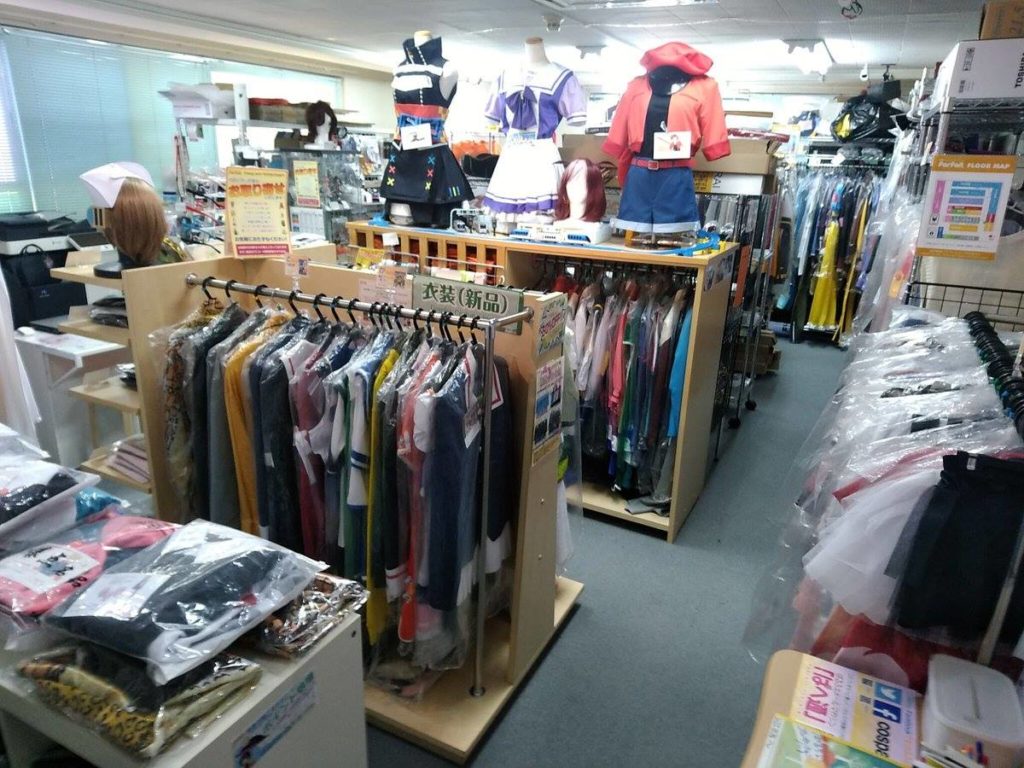 Koseya : Making quality cosplay accessible.
A store selling costumes and cosplay accessories from popular anime and video games. The goal of the store is to popularize cosplay by providing attractive prices and monthly offers.
You will also find Lolita dresses and a large selection of Dakimakura.
Coscomics : Make the difference with costumes.
Coscomics is an online store offering a wide selection of popular anime and mobile games cosplays. Coscomics's strong point is its complete cosplay of characters coming from mobile games events, as here with the cosplay of the costumes of characters from the Love Live mobile game and their cards in Punk-rock version.

Cosonsen : Online low priced cosplay.
A very large range of low cost anime cosplay but also video games cosplay. You will find for example the full cosplay from the wig to the Katana of Shinobu Cosplay from Kimetsu no yaiba.
Cosonsen also has a store on Amazon Japan. This can make your shopping easier by finding cosplay costumes and accessoires directly on Neokyo.
Purchase of fabrics and accessories for cosplay.
How to choose your fabric store?
In the universe of cosplay, a handmade costume is part of a prerequisite for amateurs or professionals of cosplay wishing to participate in contests or are simply giving their all in their passion. For all these enthusiasts, Japan is a perfect source for purchasing fabrics, makeup and accessories.
Many stores exist all over the archipelago, but here are some of our favorite ones for their choice of quality fabrics.
Charanuno : A huge amount of products
There is everything you need to create your costume: wigs, make-up and lenses, as well as accessories, buttons and shoes. But above all, a very large choice of fabrics to sew your costumes for original handmade cosplays.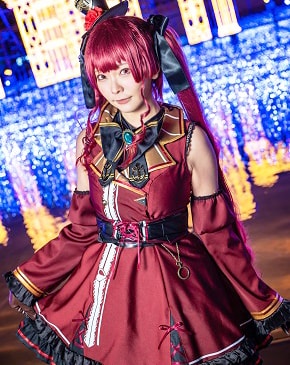 Example of cosplay made with products you can find on the Charanuno website.
Clothic : Perfect fabrics for your creations.
Clothic is a store specialized in fabrics, buttons, embroidery, laces and sewing kits. Their objective: to propose you an offer which will satisfy your expectations of cosplayer or creator of clothes for you or your dolls. It is therefore possible for you to buy fabric in small quantities or per meter.
There is no shortage of online fabric stores in Japan. We also propose you to find your joy and everything you need to make a pro cosplay with your own hands on yuzawaya (sewing, cosplay, clothing and embroidery), nippori-tomato (cheap and original fabrics). You can also use the Neokyo search bar (on the home page) on the store of your choice with the keyword: 生地 to buy Japanese fabrics.
Cosplayer, more than a passion, a profession!
Cosplay is so popular in Japan that enthusiasts have become professional in this activity as photo models, model photographers, magazine editors, designers and store owner of cosplay costumes and accessories.
Japanese professional cosplayers: Enako and Wiru.
Enako
The women cosplayers who are the most followed in Japan are those who do kawaii cosplay that tend towards the sexy. But especially those capable of embodying a large number of characters in the most accurate way possible.
One of the most popular is Enako (えなこ), it is a real star of social networks with more than 1.4 million followers on instagram and 1.2m on twitter. Enako is also a seiyuu and appears in some TV shows.
Each of his appearances in convention brings a crowd effect: the Enako ring (or Enako Wall). Hundreds of fans and photographers form a circle to take pictures of her.
If Enako has already charmed you, you can buy her official photos or merch on her online store or on Mercari. You can do it very easily with Neokyo.
Wiru
Cosplay in Japan is mostly represented by the feminine side of the cosplay. However, male cosplayers are also very active.
Let's take the example of Wiru (ウィル), whose twitter and instagram accounts are followed by thousands of fans.
Wiru is also active as a model for cosplay magazines. You can also buy photos and photo books on his online store.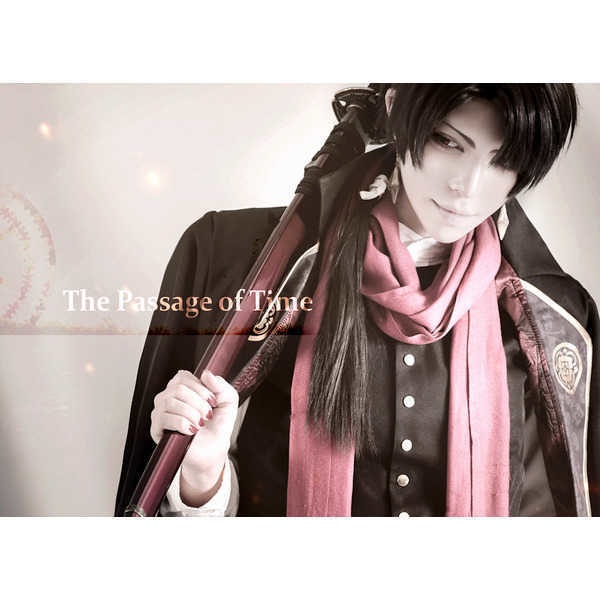 What about you? Please tell us who are your favorite cosplayers in comments 🙂 .
Crossplay: cosplay is not limited by gender.
When a cosplayer embodies a character of the opposite gender to his own it is called crossplay. It can be a woman wearing the costume and playing the role of a male character or the opposite. It is interesting to note that the word "Crossplay" is more used outside Japan than by the Japanese themselves. However, many Japanese cosplayers continue to vary the characters and the genders towards a fluidity of genres allowed by the practice of crossplay.
Tricks for your crossplays.
You can find in many of the specialized stores mentioned earlier in this article, accessories allowing you to perfect your crossplays and create the illusion! Even if the make-up and the mastery of the shadows already gives you a good result, accessories are useful to go through the limits of your body and thus, to modulate you an ephemeral one. For example, we easily find systems that allow you to flatten your breasts…
…or to add you one!
The same goes for muscles and other body shapes.
If you don't have any more ideas of anime characters to cosplay, crossplay can be a fun solution and above all allows you to go through the limits of the genre.
Magazines dedicated to cosplay.
Passion for cosplay can also be found in Japanese magazines. Some are dedicated to the art of cosplay and cosplayers. You will find pictures, patterns and mainly a lot of advices about makeup, stitching and photos.
Among the magazines currently available, we recommend Cosplay Mode which is very complete.
You can also find other magazines and previous issues on Neokyo.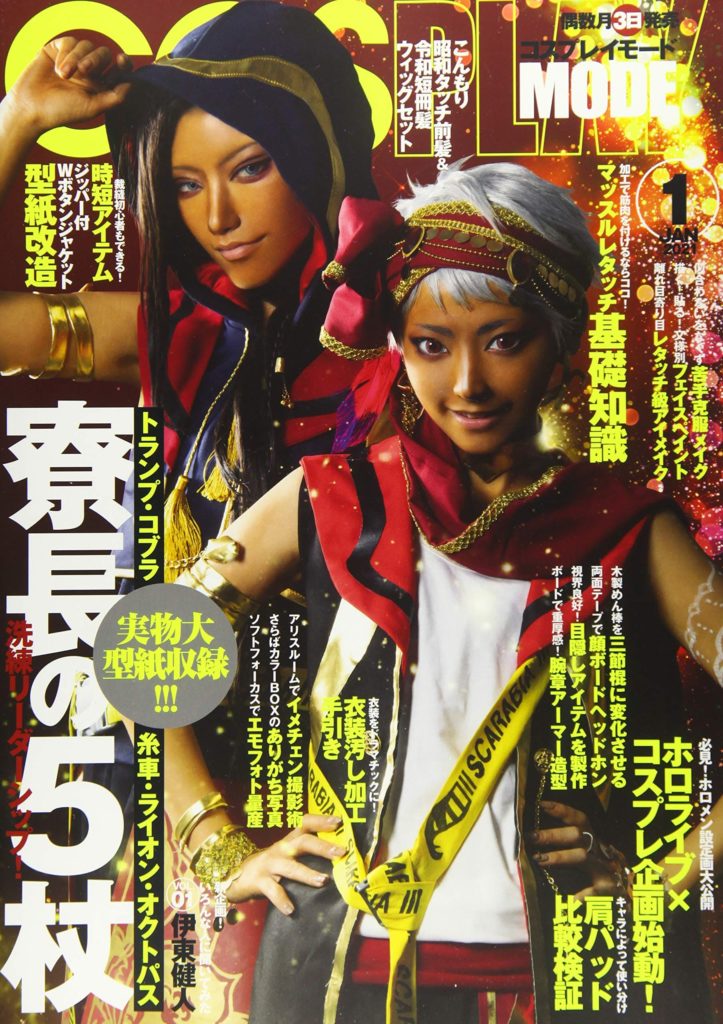 ---
Cosplay is above all a passion and a certain investment. We hope we have been able to give you all the tools you need to easily get your cosplay costumes and accessories!