A Colorful musical shopping spree with Naniwa Danshi: let's explore the POPMALL!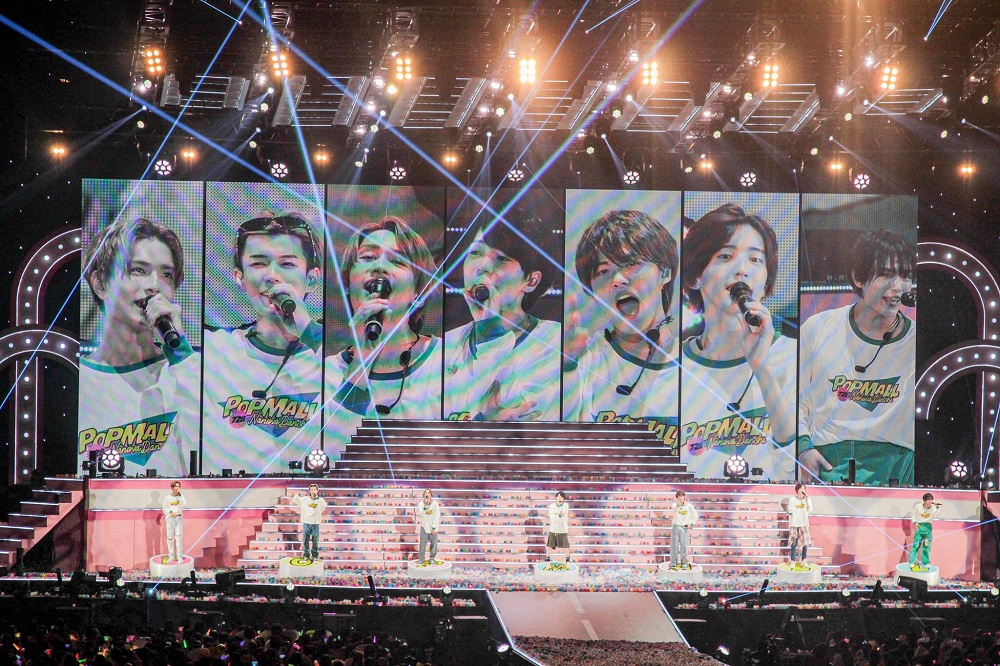 ---
A special report from the Yokohama Arena Hall
If you haven't yet stumbled upon the mesmerizing tunes and infectious energy of Naniwa Danshi, then you're in for a delightful surprise. Hailing from the Kansai region, this seven-member Japanese boy band has been serenading fans with pop anthems revolving around love since their official debut in 2021. Their journey from receiving news of their formation via mass emails (which they first thought was a prank!) to selling a staggering 1.14 million physical copies in just four months showcases their swift ascent to stardom. And now, they are back with an exhilarating new venture, the "POPMALL" tour.
A virtual shopping mall, POPMALL, isn't just any stage set. It's a vibrant reflection of Naniwa Danshi's musical ethos, teeming with colors that echo the distinct shades each member represents. This tour, inspired by their second album also named "POPMALL", brings to life the fictitious shopping arena with a grandeur only Naniwa Danshi could deliver. The clothing section (costumes) is the credit of Naniwa's member Kento Nagao!
The feedback from fans, old and new, is testament to the enchanting aura of Naniwa Danshi. Many come out of their concerts thinking, "I want to support them!" – a sentiment that's hard to resist once you've been charmed by the colorful, cute stage set that aligns perfectly with the band's, led by Kazuya Ohashi, love-filled aura.
Stepping into Naniwa Danshi's POPMALL concert feels akin to being whisked away into a universe where music, theatre, and shopping meld into a sensational Broadway-esque extravaganza. The Yokohama Arena pulsated with excitement as fans, clad in tour shirts, eagerly await the spectacle that promises more than just music.
At the heart of the POPMALL
The stage lights up, and out come the seven members, not just on foot, but carried in colossal, brightly lit shopping carts, offering a playful nod to the concert's shopping mall theme. These aren't your ordinary shopping carts – they're whimsically oversized, delightfully designed, and maneuver swiftly around the venue, bringing members closer to their adoring fans. This dynamic show sets the tone for the night, blending the familiar with the fantastical.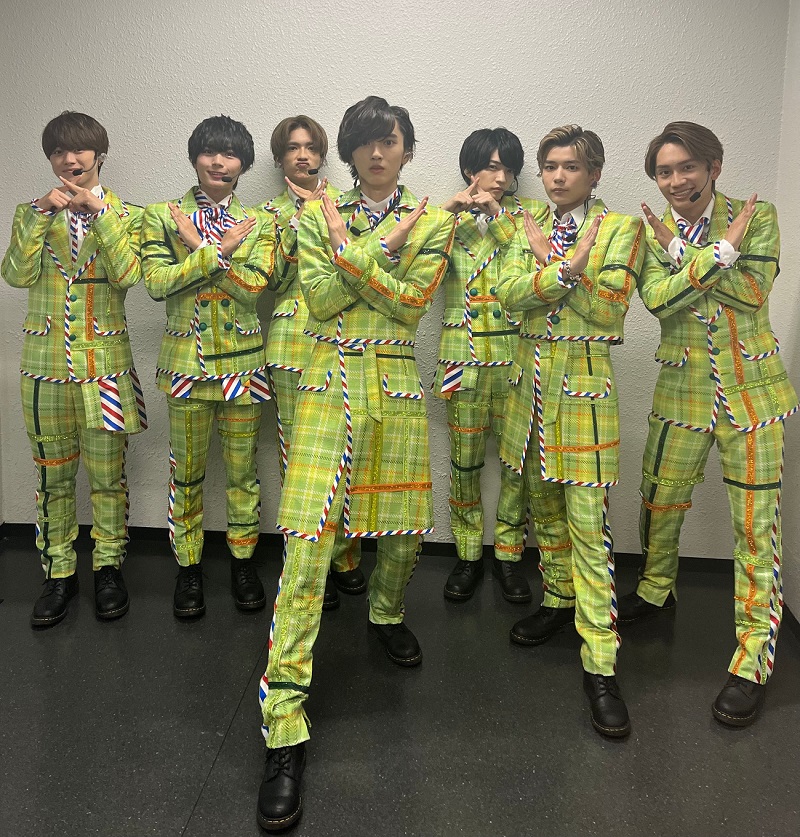 As songs transition, the giant screens are far from dormant. They come alive with humorous mock TV advertisements, much to the audience's delight. Some Naniwa Danshi members, known for their acting prowess, shine in these playful vignettes, adding layers to the concert narrative.
But POPMALL is more than just music and mock advertisements; it's a celebration of diverse sounds. From Tutti Frutti heart-tugging love ballads that have fans swaying in harmony to enigmatic tunes of seduction such as in Tick Tack Heart – there's a rhythm for every heart in the POPMALL.
A unique aspect of this concert experience is the involvement of fans. Throughout the night, the arena becomes a mosaic of lights as fans wield cart-shaped penlights, tunable to the specific color of their favorite member. The sea of shifting colors – a tangible representation of fan loyalties – adds a visual spectacle to the auditory feast.
Further enhancing this is the 'uchiwa', fans brandishing large hand fans imprinted with the face of their beloved band member, making their support personal and palpable. A must-have item in the scorching hot Japanese summer!
If you're looking to take a piece of the POPMALL tour with you, remember that official tour merchandise is available online for overseas aficionados on Neokyo.
It's hard to pinpoint what made our experience of the POPMALL unforgettable. But whatever it may be, one thing's for certain: the POPMALL is open until October 29th for the grand finale in Fukuoka!